The art shown in this online gallery can also be viewed at our exhibition space in Amsterdam.
We host exhibitions regularly. This is our format:
- Exhibitions always open with a reception on a Friday, from 17:00 to 20:00 (by invitation only).
- Online sale starts on that same Friday.
- A pics-n-prices PDF will be sent out to collectors on Wednesday before the opening.
- Press and collectors can make an appointment for a preview on the Thursday before the opening.
- The gallery is open for public (only) on Saturday and Sunday after the opening, from 12:00 to 18:00.
UPCOMING EXHIBITIONS / ART FAIRS:
WHY STYLE collective presents 'Street Fart'
Opens Friday 29 November 2013
MATTHEW SKJONSBERG / NIELS SHOE MEULMAN
Opens Friday 20 December 2013
ART IN REDLIGHT / AIR9 ART FAIR
Beurs van Berlage, Amsterdam
26 - 30 December 2013
PAST EXHIBITIONS / ART FAIRS:
'Pigeon Portraits' by ADELE RENAULT and LISA ROZE
8/9/10 November 2013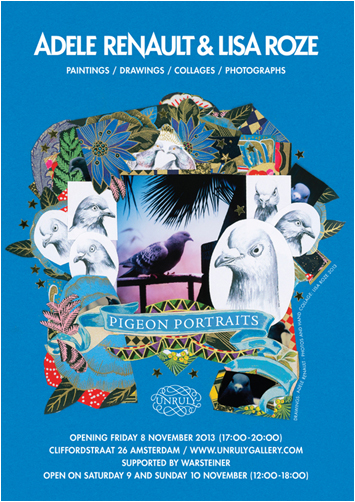 BLOOOM ART FAIR
30 October - 3 November 2013
Solo exhibition: 'How do you doodle?' by HENNY OVERBEEK
11/12/13 October 2013
Solo exhibition: New etchings and drawings by PAUL DU BOIS-REYMOND
13/14/15 September 2013
Solo exhibition: 'Subtractions' by STEVE MORE
23/24/25 August 2013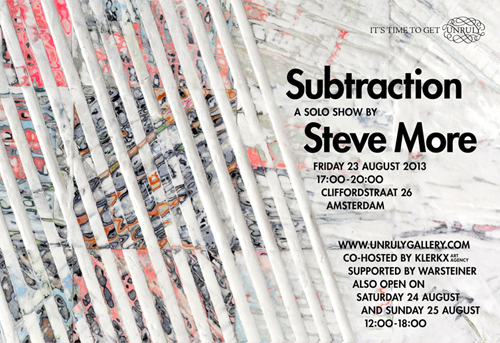 Solo exhibition: 'Youth Wars' by WAYNE HORSE
19/20/21 July 2013
Solo exhibition: JASPER DANIEL KERKE
14/15/16 June 2013
Solo exhibition: 'Words Fail' by WARREN LEWIS
10/11/12 May 2013
Solo exhibition and book launch: NUG
26/27/28 April 2013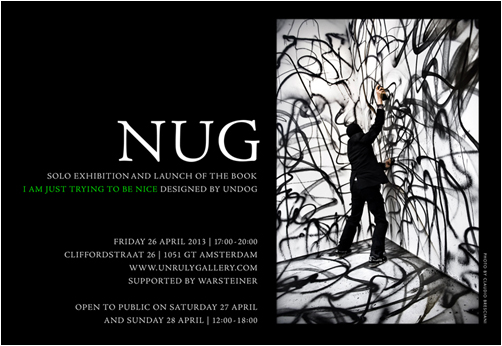 Solo exhibition: EGS
2/3/4 November 2012
Group exhibition: 'We the artists'
Portraits by PETER KEMPFF, ALDERT MANTJE, ADELE RENAULT, MENNO SCHENK
14/15/16 September 2012
Solo exhibition and book launch: RAE MARTINI
6/7/8 July 2012
Solo exhibition: Pyrography by ARNO COENEN.
10/11/12 May 2012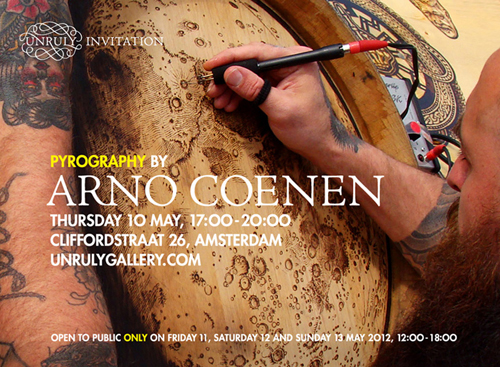 Solo exhibition: 'When the shit hits the windmill' by PETRO
21/22/23 December 2011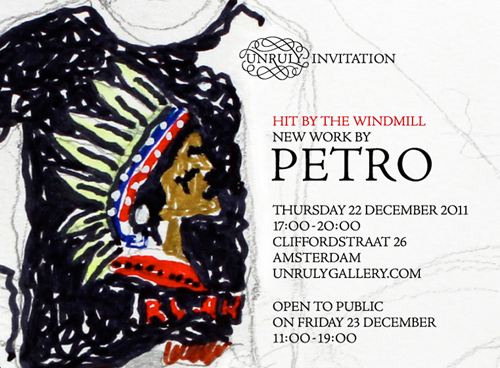 Solo exhibition: VINCENT VAN DE WAAL
23/24/25 September 2011
Solo exhibition: 'Etching the universe' by PAUL DU BOIS-REYMOND
15/16/17 July 2011
Solo exhibition: New paintings by QUIK (Lin Felton)
24/25/26 June 2011
Unruly Group Show 2011, artists: 123 KLAN, ADELE RENAULT, ANGEL, BANDO, BORIS TELLEGEN/DELTA, DR. AIR, DR. RAT†, ERIC HAZE, GREG LAMARCHE, JAN ROTHUIZEN, JOHN LANGDON, JON ONE, LIL SHY, MARE 139, MODE 2, NIELS SHOE MEULMAN, NIK CHRISTENSEN, PARRA, PAUL DU BOIS-REYMOND, PUSH, QUIK, RAMMELLZEE†, RCF1, REYES, REVOK, RIME, ROCCO PEZZELLA, SOZYONE, SKKI, VINCENT VAN DE WAAL, WAYNE HORSE, WEST ONE, WORLDWARWON
27/28/29 May 2011